Some articles on craftwithcartwright.co.uk may contain affiliate links.
I came to love cross stitch quite late. It is often a craft introduced to children as it is a quick and easy one to pick up. Yet I only started it when I was in my late twenties. I was looking for something I could work on whilst watching the t.v and wanted something I could make for gifts. Since then I have stitched hundreds of patterns and designed many more. So how did I get started? If your keen to have a go here is my beginners guide to cross stitch.
Beginners Guide – Equipment
You may find yourself swamped with equipment choices when browsing Hobby craft or flicking through a cross stitch magazine.
Yet for a real beginner you only need very few basic bits of equipment.
Floss
I would recommend that you buy a good brand of floss. Either DMC or Anchor. The colours are stronger and more vibrant and the floss is higher quality which means you will get less knots in it when sewing. I always sew with DMC and my patterns are made with their colours in mind, but your choice will be down to personal preference and the charts you pick.
Needle
Choose a cross stitch embroidery needle. It should have a blunt end and the hole size should be the same as the holes in your fabric.
Fabric
To start cross stitching choose 14 count aida. This fabric has a regular weave and holes which you can clearly see. 14 count means there are 14 holes per inch. Most patterns in magazines use this fabric.
Choose a pair that are small and sharp for cutting the threads off neatly near the fabric.

Chart
For beginners choose a chart that uses only full count stitches (whole x's) and avoid any with back stitch or half stitches. There are a great range of magazines out there full of patterns. But before you spend any money I would recommend you try one of my free patterns to see how you like it. This small heart pattern and this rainbow pattern are great ones to start with.
If you want something a little more unique. Check out my Etsy shop.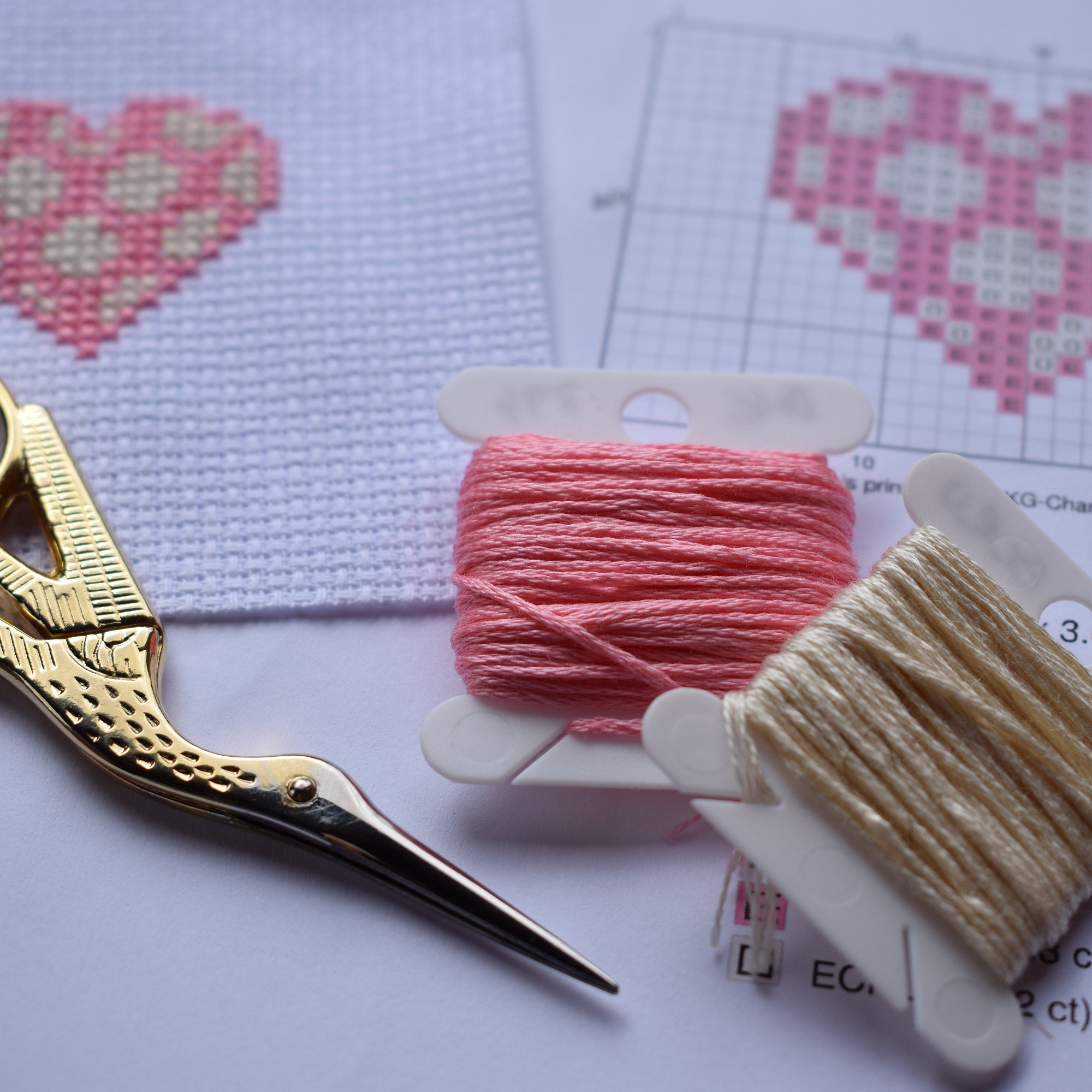 You searched for: CraftwithCartwright! Discover the unique items that CraftwithCartwright creates. At Etsy, we pride ourselves on our global community of sellers. Each Etsy seller helps contribute to a global marketplace of creative goods. By supporting CraftwithCartwright, you?re supporting a small business, and, in turn, Etsy!
Now you have the basic equipment to get started here's my video on the beginners guide to cross stitch.
Check out this great guide to get you started with #crossstitch
Click To Tweet

Want a great checklist for getting started with cross stitch with a bonus FREE chart to get you started? Of course you do. Fill in your details and grab yours today.
Privacy Policy: We hate spam and promise to keep your email address safe.
By opting in, I agree to being sent correspondence by Craft with Cartwright. This may include use of my name, tracking my clicks and targeted marketing. I understand that I'm able to opt-out at anytime.
Get everything you need to get you started in cross stitch.
This post contains some affiliate links. To find out more read my advertising and disclosure policy.
Summary
Article Name
Beginners guide to cross stitch.
Description
I have stitched hundreds of patterns and designed many more. So how did I get started? If your keen to have a go here is my beginners guide to cross stitch.
Author
Publisher Name
Publisher Logo